Branding – more than meets the eye
A while back I decided that I needed* a new pair of glasses. So off I went to my local eyeglass shop. Wait, no, it was much easier than getting into my car, finding a parking spot at the mall, making an appointment, getting fitted and so forth. Instead, I made a couple of clicks to my favourite online retailer, Warby Parker.
For those of you who wear glasses, you understand that owning only one pair can be fashionably limiting. I want choice in my glasses wardrobe. Feeling traditional? Check. Funky? Check. Transparent? Double check.
Having ordered from Warby Parker previously (and feeling extremely grateful that they sent me for an eye exam where I was diagnosed – and subsequently treated – for a condition that could have led to blindness), I knew that I was in for a pleasant online shopping experience complete with beautiful imagery, thoughtful design, smart copywriting and an easy shopping cart experience.
But what made this experience complete, was the final touch on delivery. My glasses arrived tucked neatly in beautiful packaging with a microfiber cleaning cloth. "What's so special about this?" you might rightly ask. Beyond just having their logo on the requisite cloth, Warby Parker used that space to tell their brand story in a memorable (and funny) way: see Warby Parker in 100 words.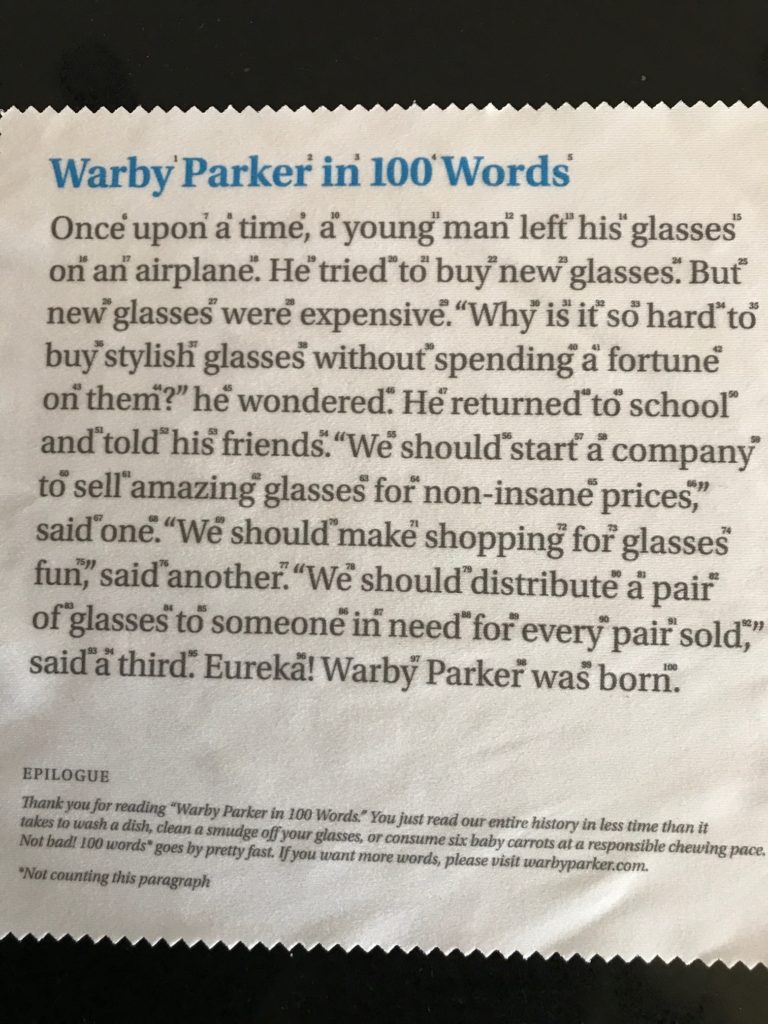 What does branding mean to you?
It's become an extremely popular term in marketing and communications circles, but it's one that's often misused or misunderstood.
Having a winning brand is marketing nirvana these days. Most companies would love to be the next Warby Parker, IBM, FedEx, or Starbucks. But is there a way for your small business to stand out in a sea of "me too" brands and competitors?
The answer is a resounding, YES!  We'll take a look at some of the ways for you and your business to build and maintain your brand.
Branding expert Shannon Larkins of Blackcoffee Studio Luxury Brands offers insight about what brand is (and isn't) in the Blackcoffee Brand Manifesto.
"Plenty of businesses offer a premium product or service … but they're not brands," says Larkins. "A business provides a service. Money changes hands and the transaction's over. A brand provides an experience, rolling out the red carpet for anyone with the moxie to show up. And that's just the beginning. Even from that first encounter with a brand – no matter how brief – they know they're in for a treat. Everything feels deliberate, thoughtful, intentional. People know a brand experience is more expensive. They're eager to pay for it – because you've assured them you are the best. Having a brand means having permission to charge what you're worth. A brand means demand, profits, and customer loyalty go up. The only thing going down is your name, in history. So it's time to ask yourself: do you want a business or do you want a brand? Because anyone can start a business but only the exceptional can build a brand."
Do you want a business or do you want a brand? Because anyone can start a business but only the exceptional can build a brand.
Branding at every touch point
Your brand is much more than your company's logo, though that's certainly part of it. I like to think of your brand from the customers' point of view. Besides your company name, logo, and slogan – It's the feeling your customers have when they think about your company.
Are you known as being the best in the business? Having the highest quality? Being the least expensive? Having outstanding customer service? All of these attributes and more make up your brand message and your overall brand equity.
Here are some of tactics that will help you stand out from the crowd and own your brand space:
Nail the visual – Your logo, colour schemes, web design, and fonts all communicate to your target audience. There are studies on the psychology of colour on brand. Make sure to do your research and be deliberate.
Write your brand message – Don't let your customers or employees have to guess and/or define your brand message for you. Write it down and communicate it to everyone, through everything you do.
Give your brand a voice – Every brand needs a voice. Who would your brand be if it was a person? Whimsical? Serious? Traditional? Hipster? Give it at voice and use it to communicate your uniqueness ensuring it sure it fits with the optics of your brand.
Slogan or tagline – A slogan can be a great tool to expand or support your company's brand message. Use them wisely. Focus groups can give you feedback on what they think of when they see or hear it.
Look the part – Not just you and your employees in what they wear (if they are customer facing); but also all of your entire suite of marketing collateral.
Stay on the 'brand-wagon' – This means being consistent with your brand and its identity. Don't change it every six months to try to get recognized or the opposite will happen.
Your customer is looking for reasons to stay with you. They want consistency, a memorable experience in products and service, and an overall feeling that they're special. There's no better way to do all of that and more, than getting your brand story right and communicating it effectively at every opportunity.
Once you've defined your brand, it should be pervasive in every part of your business. Because as hard as it is to establish a winning brand with positive recognition, with one wrong move you can turn your brand from stud to dud.
*Needed might be a debatable term in this instance.