Bringing the mountain living dream to life
From the Medlicott's love of home, to the sophisticated cost estimating system they employ, to the beautiful homes they build, our goal was to capture the essence of Beacon Mountain Homes to create a fresh and memorable brand.

A brand and web project by partners Blackcoffee Studio & Not Your Average Jo
Dorian and Hayley Medlicott came to us in need of a brand that would tell the full story of their mountain lifestyle homebuilding business. The pair firmly believe that when it comes to building homes, business is personal. They know that while they are building luxurious homes and vacation retreats in the Canadian Rockies, they are also building lifelong relationships with the clients they serve.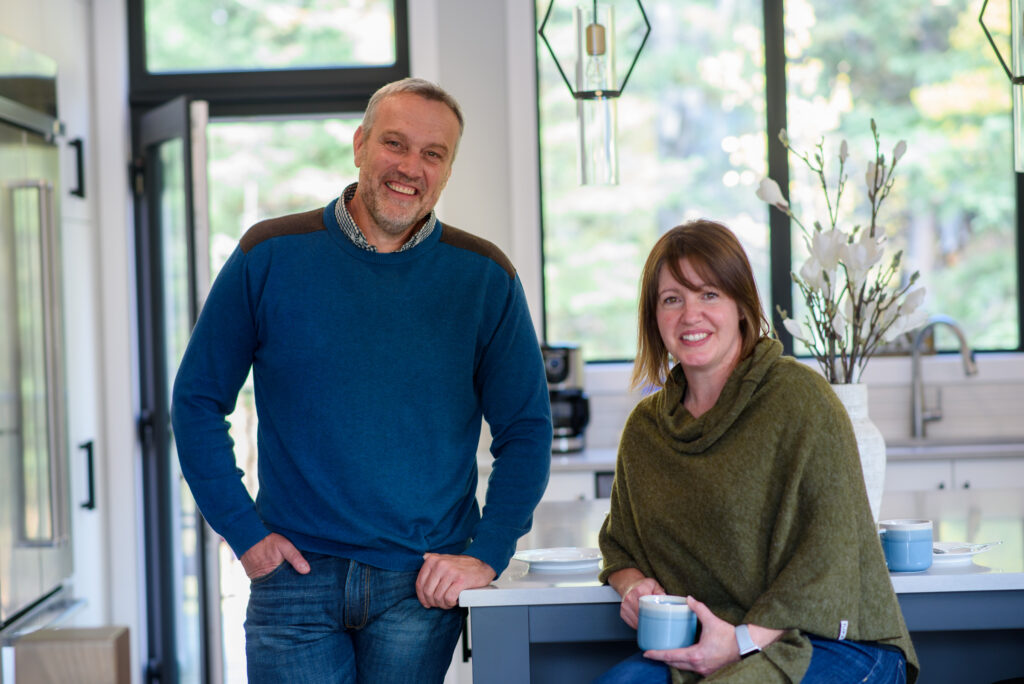 Our Approach

We started our brand strategy process by digging into what is special about the Medlicotts. They recognize that a home is not a simple business investment—a home, particularly a vacation home, is a place of comfort and ease. It is where we experience life's precious and memorable moments.
From there, we did a competitor analysis and drafted a strategy that would set Beacon Mountain Homes apart from their peers. From their love of home, to the sophisticated cost estimating system they employ, to the beautiful homes they build, we captured the essence of the company and created a fresh and memorable brand.
Beacon Mountain Homes was born. The name is a nod to the founders' Welsh heritage and Wales' famed Brecon Beacon Mountains. While the new identity highlights their heritage, it also shows their love and understanding of the Canadian Rockies and the families who live and retreat in the communities along the Bow Valley.
How we helped
Brand strategy
Company naming
Story development
Photography direction
Brand visuals
Brand voice
Website design and development
Business cards
Marketing collateral
Social media
Brand Pillars
1) Business is Personal
While other builders want to be recognized as leaders by their peers or their industry, Beacon's priority and passion is to excel at building client homes and relationships. The founders thrive on the interaction with people and, at the end of the day, if their clients are happy, they are happy. ­
2) Security of Budget and Build
At the core of Beacon's philosophy and success is detailed planning and cost management. Unlike builders who proceed without professional pre-construction planning, the Beacon planning process employs a sophisticated cost estimating system to calculate the best, fixed price possible for the client. They follow best practice and provide a fixed price model that major professional construction institutions, without exception, recommend as the most cost effective delivery method for almost all building projects.
3) Family Legacy
When families entrust Beacon to build a mountain escape, they are looking for a beautiful end result. And of course, Beacon promises that—and more—because they understand building family legacy homes. Beauty starts with exceptional planning, robust building practices, and a team that's understands precision. They know mountain home finishing touches like great walls of windows, wood burning fireplaces and timber beams need extra care and attention to ensure that function meets form.
Brand Identity
We developed the Beacon brand as a Celtic knot symbolizing love. Working with Beacon means you feel loved. It's like being pulled into a cozy Welsh CWTCH, a very special kind of cuddle. (And yes, for those of us who don't speak Welsh, there's no vowel in cuddle for them!)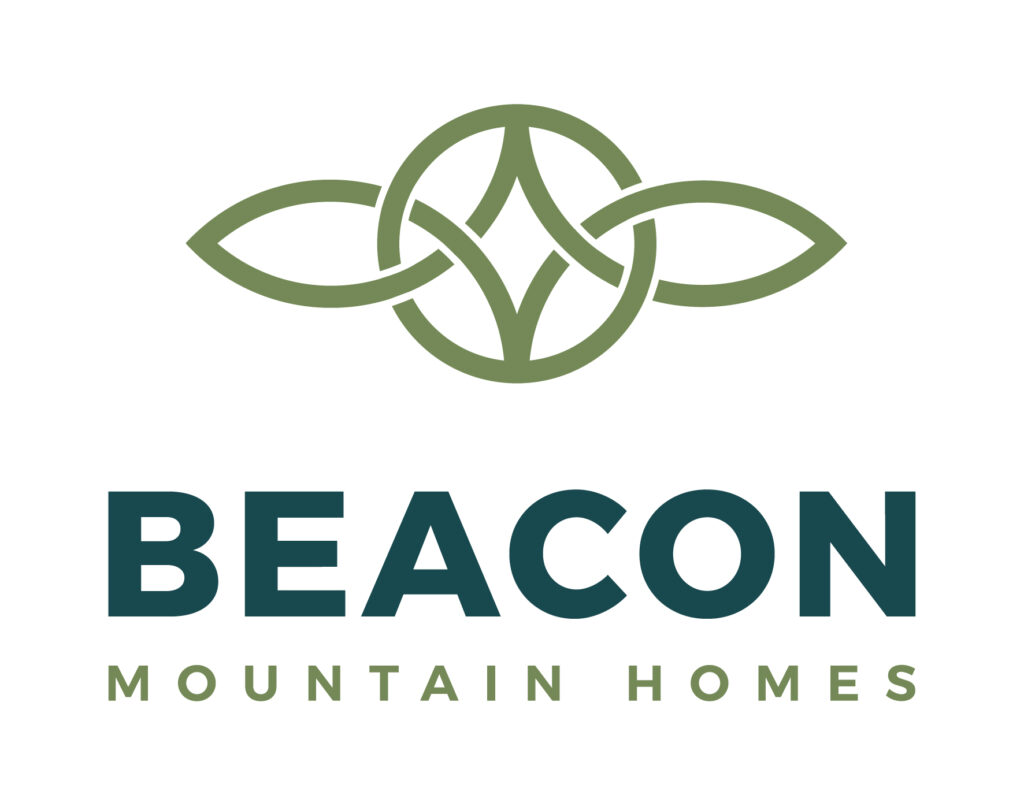 Website

With the personal commitment combined with highly professional approach as our north star, we built a category-leading website that's on brand, easy to navigate and well positioned for content growth. BeaconMountainHomes.ca is tailored so that users can quickly and easily see approach, get questions answered and view portfolio of work experience—all mobile friendly, of course.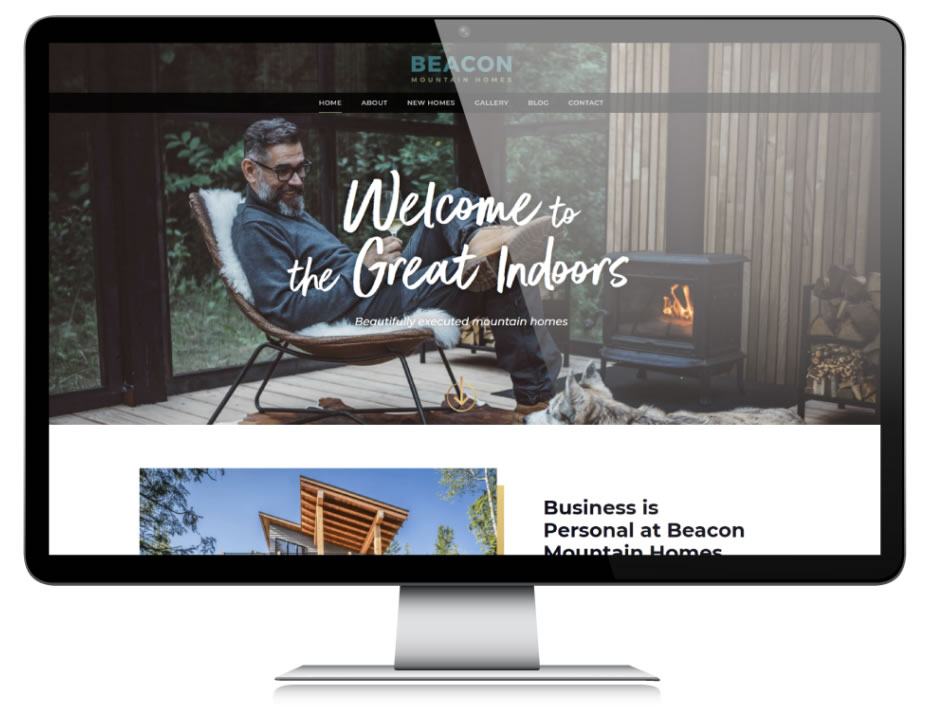 Business Cards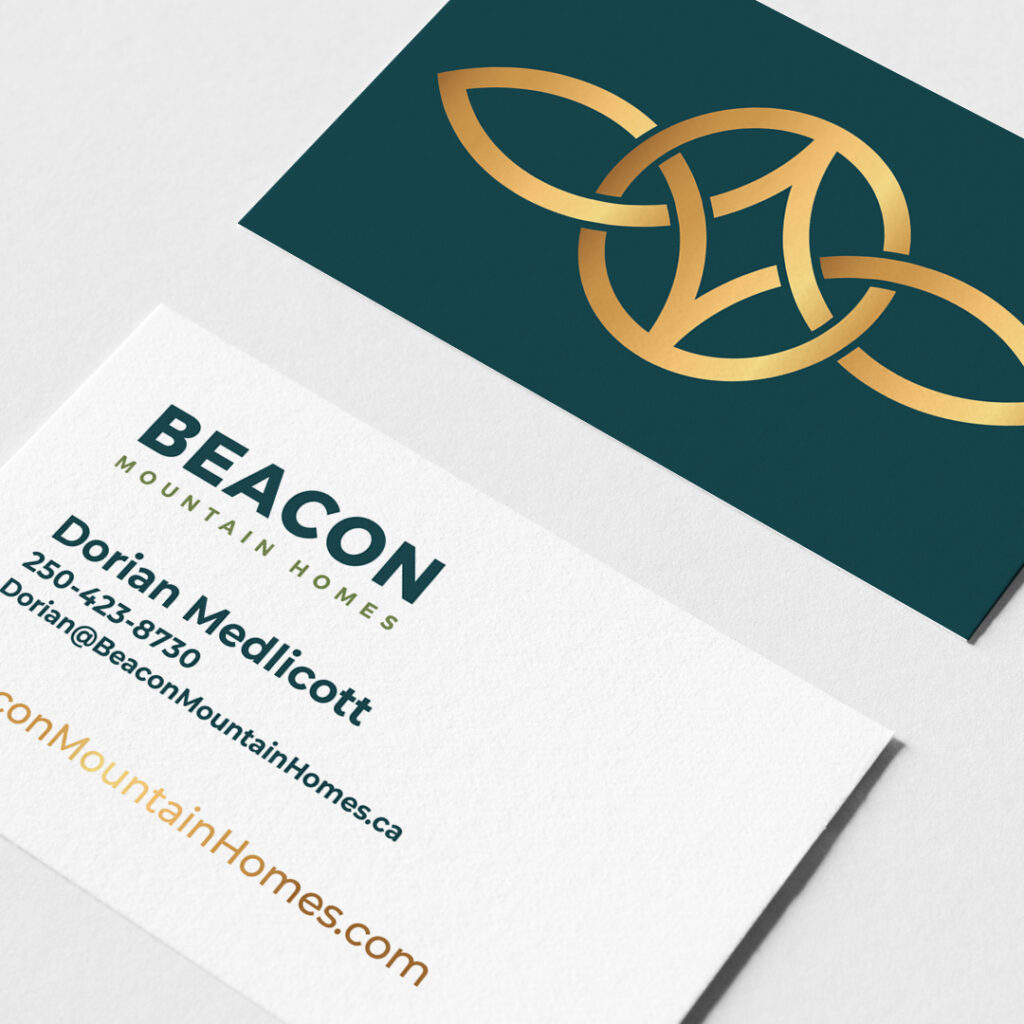 LinkedIn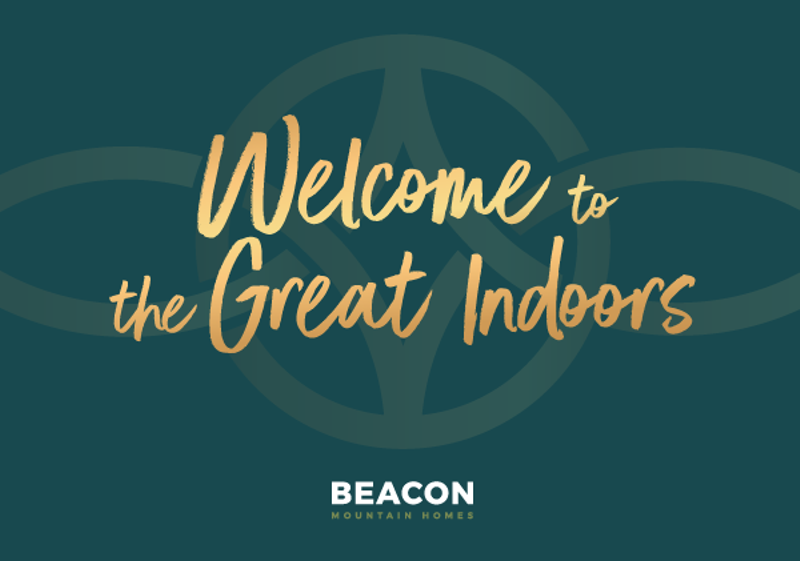 Focus on Client Testimonials: letting their work speak for itself
Beacon clients perfectly articulated the wonderful experience of working with the company. That's good for word of mouth referrals and it confirmed the path forward for building out the brand.
The entire building process from beginning to end was enjoyable and, from our perspective, stress free. We ended up with a beautiful house, on budget and in the timeline we'd been given. I would not hesitate to work with him again in the future.

Dr. Holly Workman
Success
"Jo and Shannon are a marketing machine! They came highly recommended for a rebrand of our building business. What a success it was. They have an exceptional team each with specialist expertise coupled with flair and imagination. But what sets them apart is their uncanny ability to listen and build a story around the individual personalities. Their process is extremely professional but hugely enjoyable. The team makes it fun whilst sticking to a pre-determined schedule. Our business has been transformed more than we could ever imagine and we couldn't be more grateful. We plan to use them for our ongoing marketing needs and future projects."
Hayley & Dorian Medlicott

Interested in talking about how we can dial up the impact of your brand? Get in touch->>