Is standing for opportunity an unpopular stance? I'll take my chances.
I'm not going to say now more than ever. But that's how it feels. That humankind's natural bent towards a negative bias is omnipresent, bombarding us in all forms of media and conversations.
To be fair, our natural negativity bias has served us in the past. Detecting danger is how fellow Homo sapiens managed to survive and stay off the T-Rex menu. Hara Estroff Marano in Psychology Today, Our Brain's Negative Bias says, "Our capacity to weigh negative input so heavily most likely evolved for a good reason—to keep us out of harm's way. From the dawn of human history, our very survival depended on our skill at dodging danger. The brain developed systems that would make it unavoidable for us not to notice danger and thus, hopefully, respond to it. All well and good. Having the built-in brain apparatus supersensitive to negativity means that the same bad-news bias also is at work in every sphere of our lives at all times."
A lot has changed since the Stone Age. Yet, it still seems that  "No" and a desire to believe in worst-case scenarios seeps into our modern outlook (dare I mention how Fake News has been able to take off so easily?). Does it make it more difficult to cross the chasm to YES when opportunity presents itself? Perhaps.
Now, here's where I'm going to take what feels like an unpopular stand in today's culture. I'M ACTUALLY FOR SOMETHING. (Well, many things, but let's start with one for the sake of blog brevity). I'll say it again. I'M FOR SOMETHING. And that something today is for Calgary to proudly welcome the Olympics in 2026.
Here's why I'm supporting the Calgary 2026 bid
It will unlock significant investment in our City's infrastructure
The Games will unlock significant Investment in our City's infrastructure. And this "unlocking of infrastructure investment" is a one-time opportunity. Here's what it looks like: $4.4 billion investment into Calgary's economy that we won't get without the Olympics. Let's not kid ourselves. This is a one-time chance to substantially modernize our existing infrastructure (including 30-year old Olympic venues that we still use today) along with building much-needed new facilities. It will help us to start to living up to be the world-class City we aspire to be.
Economic growth
As a small business owner, I know that one must take smart risks to achieve growth. We have smart people at the table making a good deal on our behalf. This is a smart investment for our city that will mean $1 billion in wages for Calgarians translating into 15,000 jobs. In fact, for every dollar that Calgary invests, it gets $10 in return.
We're not starting from scratch
Thanks to our previous run at hosting, we have facilities that we can re-use. Read: easier on the budget.
For my kids
It's safe to say hosting the Olympics in our hometown would be the most amazing event for my kids to be part of as volunteers and spectators seeing world-class athletes and sports they otherwise would not have access to (WOW). I also want to be an example for them in going after big dreams. And be part of the Olympic spirit. And be part of a community-led event where we would host the world. And I want them to be able to play and train in modernized facilities. Enough ands.
Because Calgary could use a win
Hello. We could use some good news here soon.
IOC 2020
Read their new strategy for yourself if you like–the IOC is changing their approach to the Olympics. In a nutshell it is applying:
– Changes to the candidature procedure, with a new philosophy to invite potential candidate cities to present a project that fits their sporting, economic, social and environmental long-term planning needs.
– Reducing costs for bidding, by decreasing the number of presentations that are allowed and providing a significant financial contribution from the IOC.
Want to get the real facts? Check out Calgary 2026's website to get factual answers to your questions (there's a lot of innuendo and fake news floating around).
Let's vote YES to this huge opportunity today in advance polls today or on November 13th. Because if we choose the "No" path continuously, it will lead us to that destination. Nowheresville. And that's not where we belong.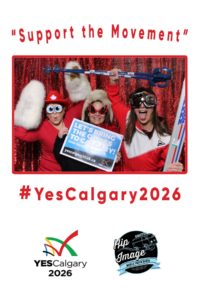 p.s. Want to see where to vote? Follow this link>>